11th February 2023 - Valentine's Day offering from Amnesty York in Kings Square: Love Your Rights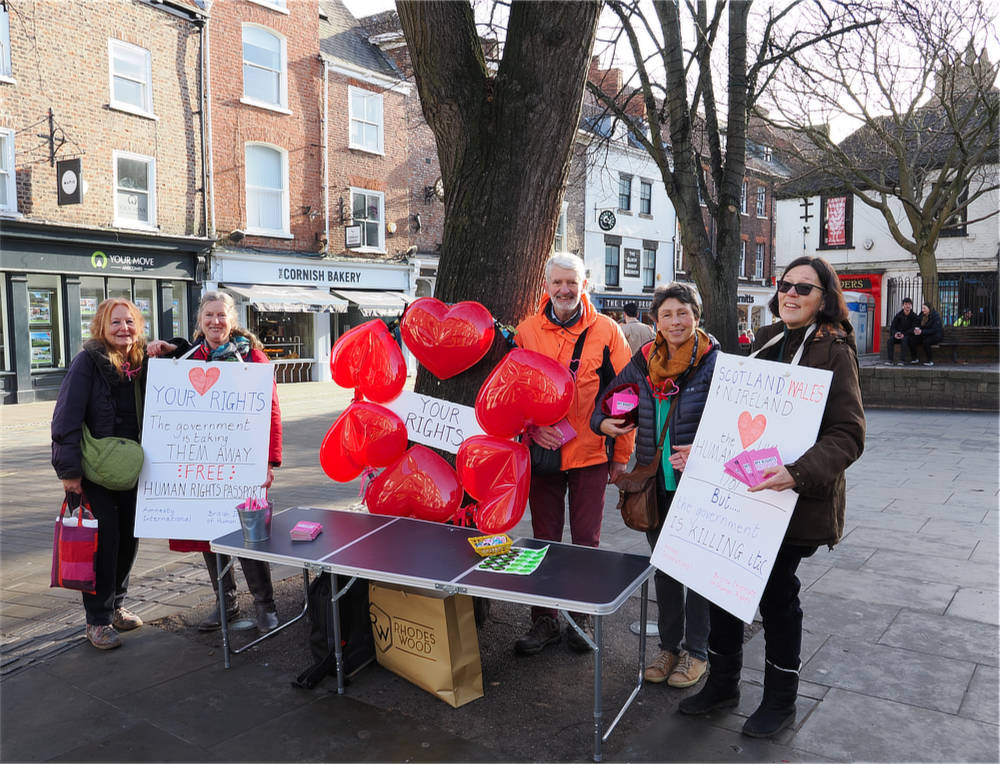 The government plans to abolish the UK's Human Rights Act 1998 and replace it with a Bill of Rights. This would remove universal access to human rights for all, whoever you are; the state would decided who could have a right and to what extent.
We handed out about 100 Human Rights Passports, had supportive conversations with passersby, and let others read our message on our human billboards from a safe distance!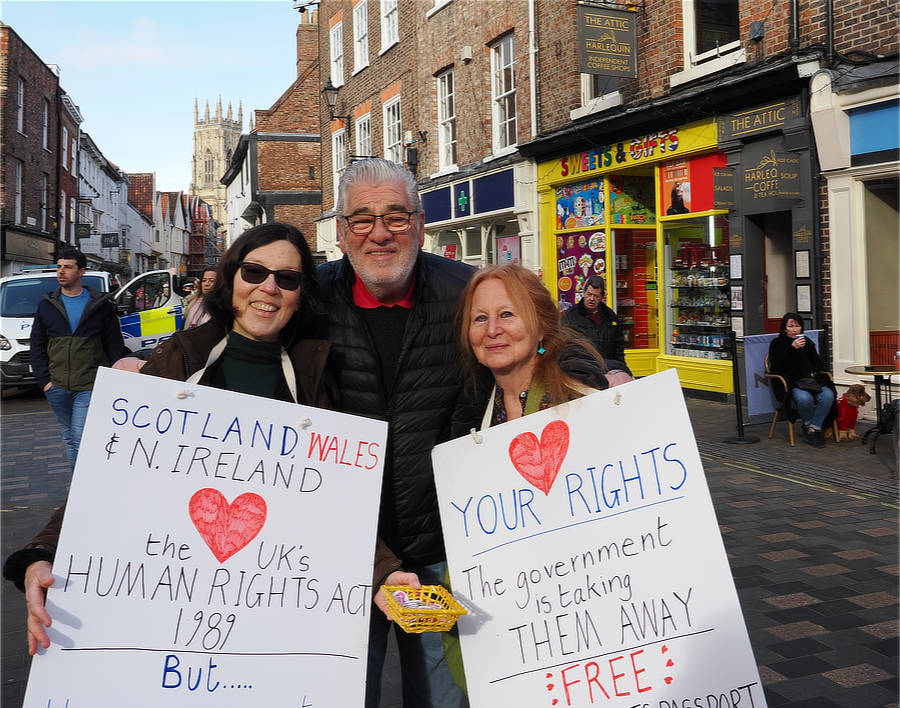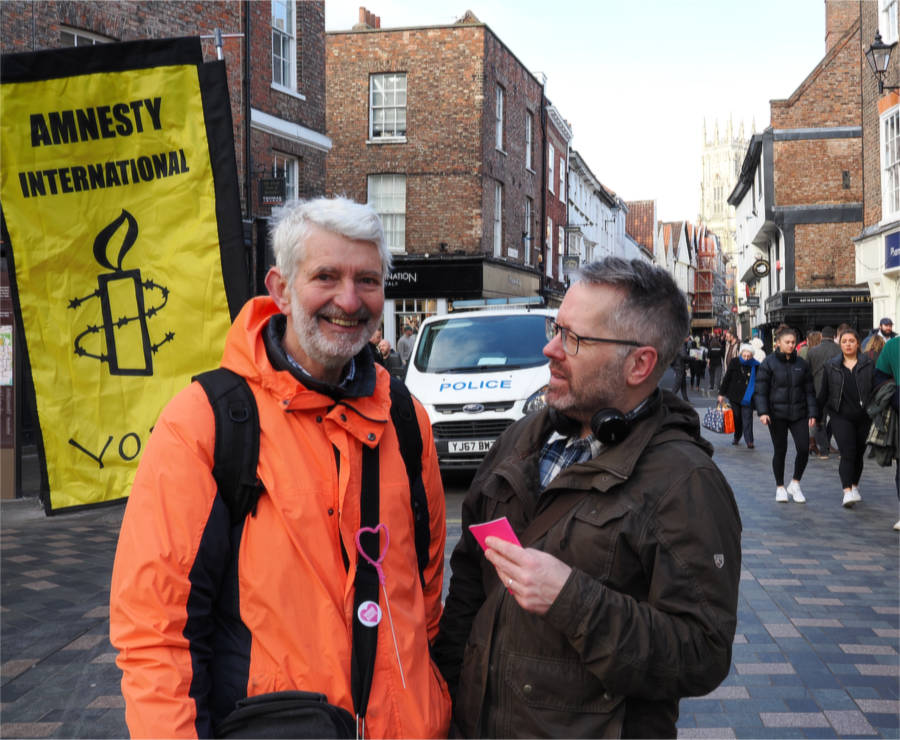 Photos - Peter Robinson
---
Amnesty International York celebrated Human Rights day on December 10th by sending good wishes to a number of people overseas who have been wrongfully imprisoned.
These include: Aleksandra Skochilenko from Russia - who openly opposed the invasion of Ukraine, Joanah Mamombe, Cecillia Chimbiri and Netsai Marova from Zimbabwe - who campaigned for women's rights, Dorgelesse Nguessan from Cameroon and Vahid Afkari from Iran - both of whom did no more than protest against the policies of their governments.
We were supported in this by local shoppers, who helped us write, and send, many messages of solidarity to these six, courageous people. We were also delighted to welcome the support of Rachel Maskell MP and the Lord Mayor of York, Cllr David Carr. This celebration was part of Amnesty's "Write for Rights" campaign, which has been running for over 20 years. It has transformed the lives of many people whose basic human rights have been destroyed. For more information about this campaign, you will be warmly welcomed at the Amnesty book shop (in Micklegate) any day of the week. Equally, you can look online here: https://www.amnesty.org/en/get-involved/write-for-rights/
---
Osman Kavala is one of Amnesty York's prisoners of conscience...
Before his incarceration, Osman Kavala's main interest was setting up cultural centres around Turkey to promote artistic expression and access to art for all. In 2019, he received the European Archeological Heritage Prize for his work on protecting cultural heritage in danger in Turkey.
Residents and visitors in Kings Square in York filled two birthday cards with messages of support for Osman Kavala, in Turkey, for his 65th birthday in October. He is sentenced to life in prison on trumped up charges due to his opposition to the Turkish Before his incarceration, Osman Kavala's main interest was setting up cultural centres around Turkey to promote artistic expression and access to art for all. In 2019, he received the European Archeological Heritage Prize for his work on protecting cultural heritage in danger in Turkey.
---
July 2022: Alaa Abdelfattah is still in custody, and needs our help.

You can write your own letter/email or use/adapt the template at https://freealaa.net/take-action (You can go into the template to get the information without actually sending it.)
25th January is a symbolic day in Egypt's calendar.
On that day in 2011, the Egyptian revolution or Arab Spring began. Alaa Abdelfattah is an icon of that revolution. Because of his outspoken support for political change, he has been in prison for most of the past decade. You have probably heard of him as his name became prominent during COP27 in Egypt. He has both Egyptian and British nationality. Despite the wealth of public support for him, Alaa remains in prison in Egypt. We are demanding freedom for Alaa.
It was on 25th January in 2016 that Giulio Regeni, an Italian student studying at Cambridge University, disappeared from the streets of Cairo whilst undertaking research. His mutilated body was found nine days later. There is strong evidence that he was tortured and murdered by the Egyptian security services. But after all these years, no one has been brought to account for Giulio's murder. We are still demanding justice for Giulio.
Amnesty International invites you to a vigil calling for Justice for Guilio Regeni

and Freedom for Alaa Abdelfattah

on Wednesday 25th January 12-2pm outside the Egyptian embassy, 26 South St, London W1K 1DW
The situation of these two men is emblematic of many thousands suffering from Egypt's systematic human rights abuses. You will have the opportunity to sign a letter to hand in to the Egyptian embassy with this message.
Do share the attached image on social media.
I do hope you will be able to join us. Please let me know if you are able to attend.
Best wishes,
Debora
Debora Singer
Country Coordinator - Egypt
Amnesty International UK section
---
Amnesty International Bookshop in York has relocated to 19 Micklegate York YO1 6JH.
The team from York Unlocked visited the shop earlier this month and made this video: beautiful building, welcoming bookshop.
To find out opening hours and a whole lot more follow this link
---
PLEASE, NO MORE DROWNINGS IN THE MEDITERRANEAN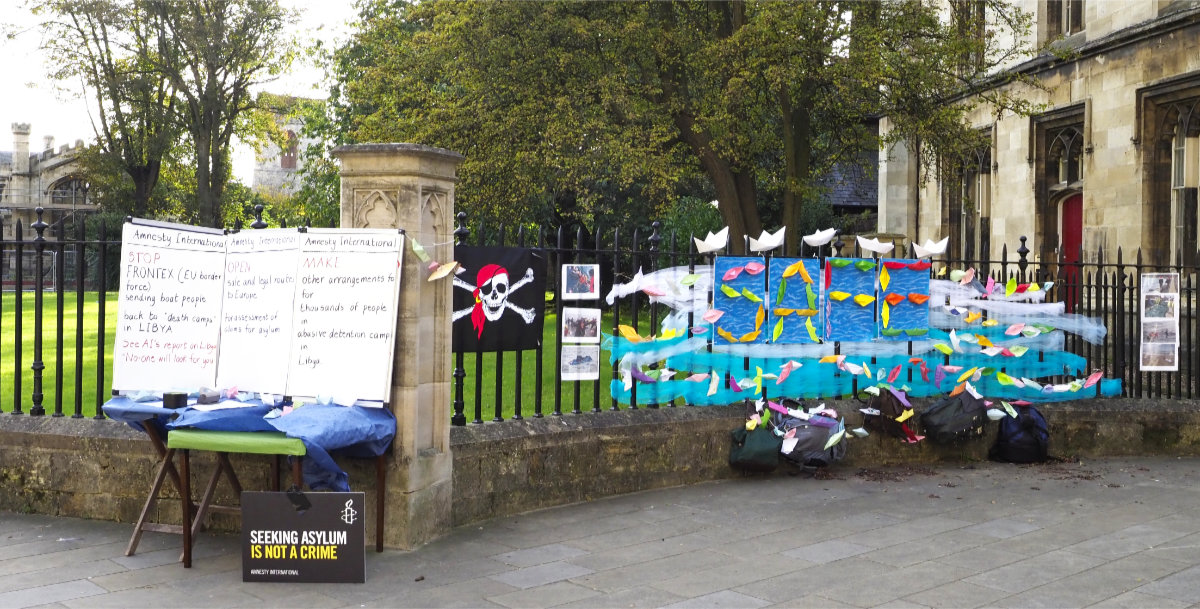 Amnesty York's installation of the sea with a flotilla of origami boats (folded by Amnesty York, York for Europe and RAY) was displayed in the Minster's South Piazza by the Roman column on Saturday October 23rd. This was in recognition of the thousands of people who try to cross the Mediterranean each year.
The display was the focus of many passers-by throughout the day. It was also an opportunity to make new Amnesty friends and meet up with established York group members. The Revd Canon Michael Smith joined us to express his support and undertook to remember those who perish in this way at evensong at the Minster.
Of those fleeing their homelands, some seek asylum, some flee poverty. This year, more than 700 (and counting) have drowned.
The stream of people will not stop until the world works together to solve the problems which send them on their journey. In the meantime, Amnesty International is pressing for:
— the creation of safe and legal routes to Europe for asylum-seekers (to put an end to people smuggling) along with a fair asylum assessment procedure.
- the end of the practice by FRONTEX, the EU border force, in cooperation with the Libyan coastguard of forcing people back to holding camps in Libya where they are forgotten, ill-treated and die.
- the end of prosecutions of people and organisations such as Médecins sans Frontières and Save The Children International for saving lives at sea (as is current, for example, in Italy).
* NB There are about 26 million refugees worldwide. In 2020, the UK had 35,770 asylum applications.